Course info
Course Overview
Digital libraries are learning spaces which serve social and intellectual roles in bringing together people and ideas. New teaching and learning methods which are more "student centered" are forcing a new focus on digital libraries. This MOOC is designed to introduce how digital libraries are important for learning. What is the role of a digital library when users can obtain digital resources from any Internet site? And what does this role change mean for the creation and design of a digital library space?
There are many typologies of digital libraries but seems to be a general agreement that they can play three roles in education:
as a resource for teaching (i.e. for curriculum development)
as an environment for learning (i.e. enhancing student experience)
as an authoring space (i.e.again, in support of student experience).
The course is designed to be comprehensive but fundamental. By comprehensive we mean that the course illustrates all the components of a digital library but fundamentally, in a basic way. The course also provides a hands-on opportunity for learners to create their own digital library.
The course is primarily intended for:
K-12 teachers at all levels, including elementary, middle, and high school teachers;
Continuing education or in-service facilitators supporting teachers and faculty;
Educators interested in educational technology and/or online instruction;
Cultural heritage professionals wishing to be involved in participatory educational activities;
Anyone with an interest in digital libraries.
This MOOC has 4 weeks of study time, with 6-8 hours a week of workload.
Video, interviews, Lesson Conversations: Each lesson will feature a number of videos and/or presentations, interviews to experts and observations highlighting a relevant topic of the lesson.
As part of the activities, you are welcome to share materials, opinions or experiences related to this course via the Conversation at the end of the lesson and via social media channels.
While it is not necessary, we encourage you to share your ideas and thoughts via Twitter using the hashtag #DigitalLibraryLearning and via our Facebook group.
Please note that although this program is offered to participants from around the world, many of the examples and experiences shared will be based on the education structure and processes of Europe. Participants will be encouraged to discuss their own country-based experiences in the Conversations.
All content on this course and all content created by yourself as part of the course, unless specified otherwise, is licensed under a Creative Commons.

Suggested Readings
Karen Calhoun. Exploring Digital Libraries. Foundations, practice, prospects. London, Facet, 2014
Newsletter del MOOC
Ricercatori: Seconda settimana
Lettori e creatori: Terza settimana
Bibliotecari digitali: Quarta settimana
Learning Objectives
The MOOC aims to provide participants with the knowledge to take useful part in digital libraries. To achieve this, participants will learn some digital library terms and concepts, and learn about the learning role of digital libraries, the legal framework, the curation of digital resources, the practical requirements and facilities of digital collections.
You will learn:
how to discover digital libraries, to create/curate and use digital libraries and sharing digital resource in the classroom to support teaching and learning;
the learning role of digital libraries which provide a virtual place for teachers and learners to meet outside the structure of the classroom.
The MOOC will describe many digital libraries which have been originally developed for facilitating knowledge sharing and creation and make available digital library learning spaces. Over the MOOC we will cover the following topics:
What is a digital library?
Introduces you to the basics of the digital library. You will learn how to identify the fundamental elements of a digital library and review examples taken from international and national projects.
How can you use a digital library for learning?
Topic 2 focuses on access and re-use of digital library as you learn the steps in accessing and remixing a digital resource from a digital library. By the end of this topic, you will begin to understand the important steps and elements of using a digital library for learning. You will also learn to recognize the importance of selecting appropriate resources (images, texts, audio, video, etc.) and the value of creating a digital library for your course.
How can you create a digital library?
A step-by-step approach will be used to illustrate how digital libraries can be used to support your teaching as a part of creating a course digital library. By the end of this topic you will be able to plan your digital library supporting a interesting and innovative way of teaching.
Associating resources and tools to evidenced learning needs
In topic 4, you will revise the final version of your digital library plan, publish it online and discuss with the course participants how it might be used in the classroom to support teaching and learning.
Outcomes
The course aims to provide participants with the skills and competencies to explore the rapidly evolving world of digital libraries and be able to explore, read, remix and share digital resources and tools available.
The participant at the completion of the MOOC will:
understand how digital libraries can work for improving learning and teaching;?
have advanced knowledge on how to access, remix, share a digital library for learning;?
be able to create, manage and evaluate a digital library for improving learning.?
Certification and Additional Info
This course is offered with the option to earn a Course Certificate and 1 credit (ECTS) to be recognized by the International Master DILL (Digital Library Learning) jointly delivered by the universities of Tallinn and Parma
Course Structure
Lesson 1 - Introduction and welcome!

05/12/2016

Lesson 2 - What are digital libraries?

12/12/2016

Lesson 3 - How can you use a digital library?

20/12/2016

Lesson 4 - How can you create a digital library?

27/12/2016

Lesson 5 - Associating resources and virtual spaces to evidenced learning needs

10/01/2017
Teacher
Anna Maria Tammaro
Anna Maria Tammaro has been teaching from 2001 at the University of Parma as the Local Coordinator of the International Master in Digital Library Learning (DILL), a joint course together with Tallinn University (coordinator) and University of Parma. Currently she is the President of the Interdepartmental Centre CoLab.
Her research interests include Digital Library, Internationalization of Library and Information Science (LIS) education.

She is Chair of IFLA Section Library Theory and Research, past Chair of the Education and Training Section (2007 to 2011) and member of the IFLA Governing Board. In 2011 she has been awarded by EUCLID the "Bobcats of the year" for her contribution given to LIS education in Europe.
She has been coordinating the research projects of the Digital Renaissance Foundation "Digital Library Applications" and "Access to digital library" and has collaborated with the European projects "Minerva Ministerial Network for digitisation in Europe" and the Tempus Project NMPLIS.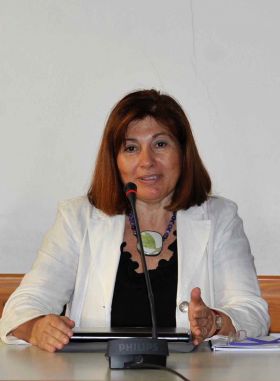 Coauthor
Elena Giusti
Hello!
I'm 27 years old, assistant librarian and aspiring to be a real digital librarian, mastering all the complex and interdisciplinary skills of this profession. Since September 2015, I have been the e-tutor for the students of the international master Digital Library Learning.
I'm interested in studying innovative and participatory tools for e-learning, digital libraries and new forms for collaborative creation of knowledge.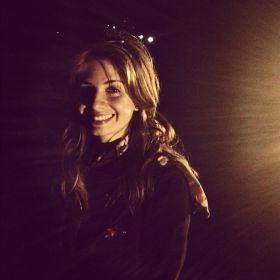 Coauthor
Liliana Melgar
Liliana Melgar holds a PhD degree on Information Science (2016), and a MS in digital libraries awarded by a consortium of three European universities (Oslo, Tallinn and Parma, 2009), along with a specialization in audiovisual documentation by Carlos III University in Madrid (2010). She did her bachelor in Library Science at University of Antioquia in Colombia (2007), where she originally comes from. She has been a research/teaching assistant at the University Carlos III of Madrid and member of the TECNODOC Research Team. She was a visiting researcher different institutions in The Netherlands, at Vrije Universiteit Amsterdam (2012), at Eye Netherlands Film Museum (2014), and at Utrecht University (2014, 2015). Currently Liliana is a postdoctoral researcher at the University of Amsterdam where she conducts the user studies for CLARIAH, an infrastructure for digital arts and humanities research in The Netherlands.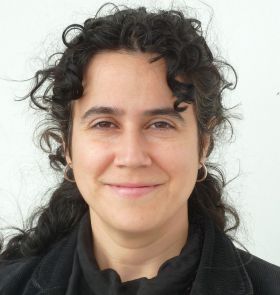 Coauthor
Eric Boamah
Eric originally comes from Ghana where he worked as
a teacher and a college librarian. He had his teachers' Certificate 'A' from
Wesley College of Education, Ghana, in 1998. He obtained his first degree in Information
Studies (Major) with Linguistics (minor) from the University of Ghana in 2005. Eric
had his MA in Digital Library Learning with an Erasmus Mundus Scholarship, in
2009. He completed his PhD with Victoria University of Wellington, New Zealand in
2014 with a Vice Chancellor's Strategic Research Scholarship. Eric's PhD was in
the broader area of Digital Preservation and Cultural Heritage and he focused
on exploring contextual factors that are influencing the management and
preservation of digital heritage resources in Ghana, using New Zealand as his
point of reference.
Eric worked as a Research Assistant with the School
of Information Management, Victoria University, and won a Victoria Business
School Research Grant to present his research at the 8th Research
Applications in Information and Library Studies (RAILS 8) conference in
Adelaide, Australia, in 2012. While doing his PhD, Eric also worked as an
Adjunct Faculty member at the School of Social Sciences, Open Polytechnic of
New Zealand and in 2013, he was given a permanent role as a Lecturer in
Information and Library Studies. Eric's research interest is in the areas of
digital preservation, digital libraries, information literacy and records
management.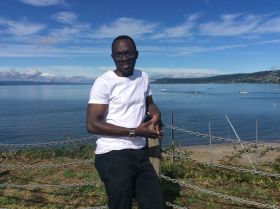 Coauthor
Getaneh Agegn Alemu
Getaneh Alemu (PhD) is an information professional and researcher who is currently working as a Cataloguing and Metadata Librarian at Southampton Solent University, United Kingdom. He has worked and studied in higher education for more than 15 years in Ethiopia, Belgium, Italy, Norway, Estonia and the United Kingdom. He worked as a lecturer and Head University Librarian in Mekelle University, Ethiopia. He also worked as a research assistant on a digital preservation project at the University of Portsmouth. Getaneh's research focus includes Metadata, Digital Libraries, Open Access, Linked Data and Web 2.0 technologies. He recently co-authored a book entitled "An Emergent Theory of Digital Library Metadata: Enrich then Filter" published by Chandos Publishing (Oxford) in 2015. His publications can be accessed on Google Scholar: https://scholar.google.co.uk/citations?user=WX3KZOkAAAAJ&hl=en
You can also contact him by email: getaneh.alemu@solent.ac.uk ; getaneh@gmail.com ; Twitter: @getaneha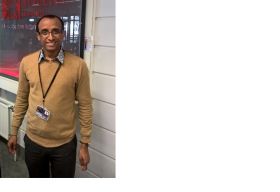 Coauthor
Virginia Ortiz-Repiso Jiménez
Dr. Virginia Ortiz-Repiso (female) is Professor (1996) at the Library and Information Sciences Department, Carlos III University, Madrid, Spain. She collaborates in State Finance National Research and development projects from 1994. She has been involved in Bologna process at (European Higher Education Area (EHEA) at national e international level. Her main interests, as a researcher and professor, are in areas related to managing technology in Digital Libraries and searching and retrieving information in electronic environments. Her works are published in Spanish major publishers and in important national and international journals.
She was the Chair of the Department of Library and Information Science at Carlos III University of Madrid (2009- July, 2015). She was the president of Spanish Departments Network of Library and Information Science (RUID) from 2011 to June 2015. Since 2012, and member of the Committee of REBIUN experts (Network of Spanish University Libraries) for Information Skills. From October 2014 is the Secretary (Vice-President) of FESABID, The Spanish Federation of Societies of Archivist, Librarians, Documentalist and Museology. She is the iDean representative of the iSchool Universidad Carlos III, Madrid, since March 2015. She has more than 25 years of educational university experience and research. She is from October 2015 Chair-elect, and Chair of ASIS&T European Chapter.