Course info
Coming Soon

6 Weeks

Free

Certified
Emma is experimental in nature and uses an integrated advanced automatic translation service
Course Overview
This Massive Open Online Course (MOOC) into Learner Experience Research (#LERMOOC) is offered by and for members of the ELESIG community (elesig.net). ELESIG is a community for those interested in educational evaluations that investigate learners' experiences with technology.
The course is a community-based development, where many ELESIG members are offering to share their knowledge and experiences through writing case studies, producing videos, moderating activities and presenting at webinars.
Because of all the different people who have been involved, you may find that #LERMOOC looks and feels different from other MOOCs you may have completed. We hope you enjoy exploring a range of different perspectives and approaches each week.
We also hope you feel part of this community, and are able to share and contribute to the resources we are collecting here. If you are a social networker and post about the MOOC, please use the hashtag #LERMOOC (and #ELESIG if you have enough characters).
What to expect
We have chosen to focus on one research approach – action research – as a way of conducting research into learners' experiences of technologies.
In this course, you will work on a plan for a small-scale action research project in preparation to write and publish about student learner experience. You will consider why we need learner experience research and follow a series of activities to guide you through the process.
This MOOC has 6 lessons, with each lesson divided into several units. If you want to complete all the activities, you will need 3-4 hours per week. You can do additional readings and activities to expand upon some of the topics.
The course is structured into six lessons as shown in the diagram below: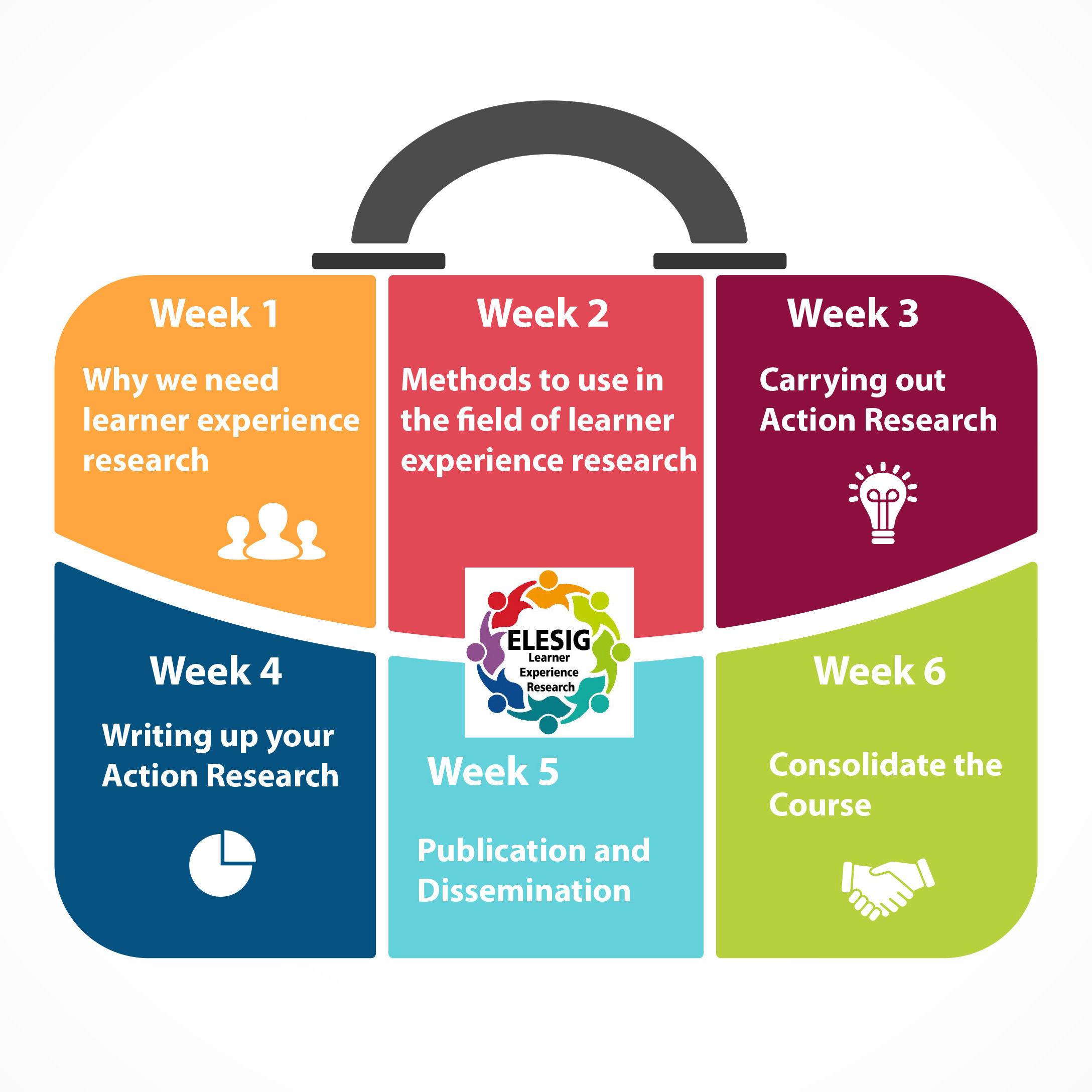 Who is this MOOC for?
#LERMOOC is for those who are interested in undertaking research into learners' experiences of technologies within an educational setting. These are likely to be staff based in further and higher education organisations, and may include representatives of other education sectors too.
This MOOC is targeted at those new to conducting learner experience research, especially teachers researching their own practice. We also welcome researchers experienced in other fields who wish to update and share their knowledge and expertise.
Learning Objectives
By the end of this MOOC, successful participants will be able to:
Explain the importance of learner experience research
Choose between methods of data collection suitable for learner experience research
Plan a small scale action research project in learner experience
Create a writing and publication plan
Consider a range of dissemination methods
Outcomes
Successful participants will develop the knowledge and skills to be able to carry out a small scale research project and develop a plan for writing and publication.
Certification and Additional Info
EMMA provides a certificate to whom complete more than 70% of the course. These certificates are not credit bearing.
You will receive your certificate directly via email a couple of weeks after the end of the course.
Acknowledgements

Sincere thanks to:
Katharine Jewitt for setting up this MOOC space and bringing the ELESIG community together to work on LERMOOC;
Shirley Williams (Emeritus Professor at the University of Reading), Denise Sweeney (University of Nottingham) and Sarah Cornelius (University of Aberdeen) for reviewing a draft of the MOOC content and providing constructive feedback;
Ilaria Merciai and Eleonora Panto (Emma platform) for their help and assistance in using the Emma platform;
Simon Rae for his excellent cartoons accompanying each week; and
Andy Sim, University of Glasgow, who filmed and produced the week 1 overview video and created the video intros and outros.
Use of content and licenses
The course materials are available under the Creative Commons licence CC BY-NC-SA http://creativecommons.org/licenses/by-nc-sa/4.0/ , unless stated otherwise.
Course Structure
Lesson 1 - Welcome and getting started: Why we need learner experience research by Dr. Vicki Dale

Lesson 2 - Methods to use in the field of learner experience research by Professor Rhona Sharpe

Lesson 3 - Carrying out Action Research by Dr. George Roberts

Lesson 4 - Writing up your Action Research by Dr. Sue Becker

Lesson 5 - Publication and Dissemination by Tünde Varga-Atkins

Lesson 6 - Consolidating the Course by Sandra Huskinson
Teacher
Vicki Dale
I co-coordinate the Learner Experience Research MOOC with Professor Rhona Sharpe, which has been designed, developed and/or reviewed by a number of dedicated educators from across the ELESIG community.


I am a Senior Academic and Digital Development Adviser at the Learning Enhancement and Academic Development Service at the University of Glasgow (UofG). My main remit to date has been to support academic staff in designing, developing and evaluating blended and online distance programmes and courses, and this has expanded to incorporate academic development more broadly.


I have a particular interest in learner experience research, my previous role at UCL being E-Learning Evaluation Specialist. I am also heavily involved in quality enhancement work with key stakeholders across UofG, to progress student, staff and institutional transitions to blended and online distance learning. I am currently co-lead for ELESIG Scotland alongside Prof Peter Hartley.